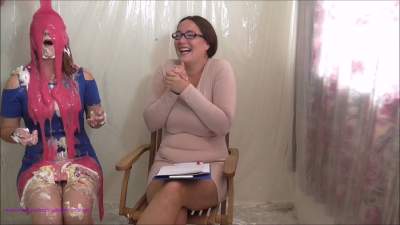 Starring these models:
"Amazing launch price..first two weeks only"
| | |
| --- | --- |
| File count: | 1 |
| Total size: | 411.95 MB |
| Total runtime: | 12 mins |
| Date added: | 1/07/18 |
| Reviews: | 2 |
| Views: | 1653 |
| Scene ID: | 26074 |

$6.99




Report
Amazing launch price...first two weeks only just $6.99!

umd forum-ite and genuine Wammer, the beautiful Messy_Miss joins the cast at Fully-Clothed WAM (playing the role of Michelle) and is initiated by Maria!

She gets it good!

The setup is that Michelle has come for an interview at the messy office, and of course is therefore dressed to impress, having spent ages on her hair and make-up etc and bought a new outfit for the interview.

Maria then proceeds to show her what they do to staff who don't perform at this office, and Michelle gets hit with multiple pies to the face and hair. Maria uses her finger to scoop a bit of pie filling off Michelle and taste it. "Delicious" she says "try some" and poor Michelle has to scrape a little pie off her face and taste it. Finally Maria says Michelle has had enough pies...Michelle seems relieved till Maria says 'bring on the slime' and Michelle is gunged in gloopy red slime. After the first thorough sliming Maria asks if Michelle thinks she will be able to save the dress:

"I don't know.." says Michelle

uh oh! she gets slimed again...never say those three words near us Michelle!

Now Michelle has been throughly pied and slimed, Maria then moves on to other substances. She uses lemon yoghurt, double cream, trifle, golden syrup and treacle on poor Michelle, before asking Michelle what she thinks

"I'm looking forward to doing it to somebody else" sighs Michelle
Reviews:
"Awesome coverage!"
delete
The debut of Messy_Miss is excellent. She's clearly a natural at getting messy (her reactions are great!) and the level of coverage is fantastic. You get the lovely Maria dishing it out, too. Definitely worth a purchase.
"Very good"
delete
I have seen some of Messy Miss' work in the past and am very happy to report that this scene reflects how amazing she is when it comes to taking the mess like a trooper. A very good concept for a scene and a very good delivery. Hope to see a lot more of Michelle in the future.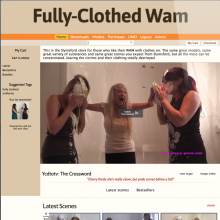 More scenes
2 min

2 files

14 min

26 min

2 files

13 min

26 min

2 files

14 min

16 min

32 min

3 files

22 min

5 min
Tell others about this scene:
* Promo refers only to
Fully Clothed WAM
's download scenes. The lowest-priced item(s) in your cart from this producer will be made free once you have the required number of items in your cart.