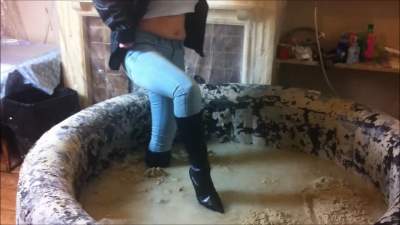 Starring the following model:
"Jellyncustard loses mud virginity in jeans and boots!"
Gorgeous Jellyncustard heard about my mud pool and wanted to visit to lose her mud virginity. Of course i agreed and so in tight blue jeans, leather knee high boots, a tiny white top and a leather jacket, I ask her to get in the pool to give it a bit of a mixing. She steps in slowly, and can't believe how deep it is! She walks around in the boots, feeling the mud squish, and then sits down and slowly starts covering herself in the gorgeous creamy mud, and slowly sinking deeper. I think it needs a bit more mixing so she turns over onto her front and enjoys the sensations as the mud fills her clothes. With a cheeky bum wiggle, Jnc prepares to dunk her head under, and really goes for it! sinking her head deep down into the mud, she emerges fully coated top to toe, inside and out. She plays around in the mud a while longer, letting it soak in, and I leave her to relax and enjoy.
| | |
| --- | --- |
| File count: | 1 |
| Total size: | 457.41 MB |
| Total runtime: | 12 mins, 17 secs |
| Date added: | 11/19/15 |
| Year produced: | 2015 |
| Reviews: | 1 |
| Views: | 9227 |
| Scene ID: | 16112 |

$8.97 30% off!

$6.28



Reviews:
"Things just cannot get any better than this video wow!"
delete Such a hot and sexy video and those tight blue jeans were perfect for this scene. I cannot express just how good this is but if you love tight blue jeans getting wet and muddy then this is the video for you!

Report

Report