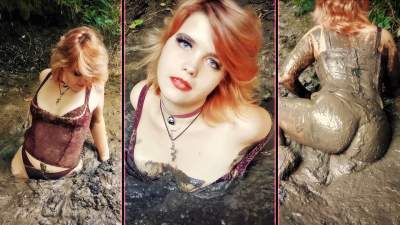 Starring the following model:
"All of this will be dirty."
Today, Mary looks especially. She wore a burgundy erotic suit. Stockings, corset and shirt are sexually wrapped around her body.
Mary found a new "mud bath" near the creek. She steps into the thick mud. It is a viscous clay, a real quicksand. Her clothes become dirty, she takes off her shirt and stockings. Clay loudly gurgles and sucks Mary, she sinks deeper and deeper.
It is very difficult to get out of quicksand. Mary floundered in the mud, but only gets deeper. Dirt sucked her on the shoulders. Finally, Mary tensed and got out of the mud pit. Her juicy buttocks and legs are sexually smeared with gray mud.
| | |
| --- | --- |
| File count: | 2 |
| Total size: | 1.87 GB |
| Total runtime: | 43 mins, 58 secs |
| Date added: | 10/10/17 |
| Year produced: | 2017 |
| Reviews: | 1 |
| Views: | 6209 |
| Scene ID: | 24786 |

$14.99



Includes these files:
maroon_dream_pt1.mp4

1920x1080

6,597 Kbps

956.68 MB

20.3 minutes
maroon_dream_pt2.mp4

1920x1080

5,671 Kbps

962 MB

23.7 minutes

Report