Kacie and Roxy: XXX Messy Therapy 0181
Produced by Hotwamhd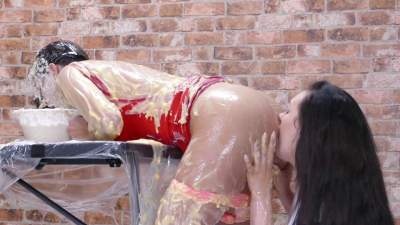 Starring the following model:
"Roxy gets strange sensations with food, she tries therapy with Nurse Kacie."
| | |
| --- | --- |
| File count: | 2 |
| Total size: | 693.61 MB |
| Date added: | 8/04/17 |
| Views: | 4581 |
| Scene ID: | 23927 |

$11.99
Roxy has been getting a strange sensation whenever food touches her body. She goes along to Nurse Kacie's therapy session to get it checked out. 'It's important you don't move' says Kacie, tying Roxy face down on the table with her legs apart. Kacie starts slow, pouring custard onto Roxy's back. 'Where is this sensation?' she asks. Embarrassed, Roxy admits that she feels it most strongly between her legs.

After a sensual syrup shampoo, which only gets Roxy more worked up, Kacie decides to try something different. 'Well, this isn't in the textbook, but it might help you' she says, placing a large bowl of porridge right under Roxy's face. First, she fills Roxy's knickers with custard, then fingers her through the thin fabric. Next, she pulls her knickers down and licks Roxy's pussy. The sensation is so intense that Roxy plunges her head into the porridge over and over, until she reaches a sticky slimy orgasm thanks to Kacie's expert tongue.

Roxy then convinces Kacie to give it a go. Stripping out of her uniform, Kacie straddles Roxy's face, and then starts pouring bowls of sweet and savoury mess over herself. As she gets turned on, Kacie grinds down onto Roxy's face, riding her tongue to a noisy climax.

Climbing off, Kacie says 'Well, you've got me going so you'll have to finish me off!' This is Roxy's cue to fuck Kacie with a glass toy, while covering her form head to toe in chocolate pudding, and treacle. Kacie surrenders completely to the mess, pushing her face into the mixed up goo on the floor and slopping it over herself until she cums again.

Finally, Roxy asks if she's been cured. 'Who cares!' giggles Kacie.

Report
Includes these files:
kjrm01_hd.mp4

1920x1080

7,172 Kbps

690.06 MB

13.5 minutes
kjrm01_img.zip

960x640

Zip file of 29 photos

3.55 MB

sizes may vary
.