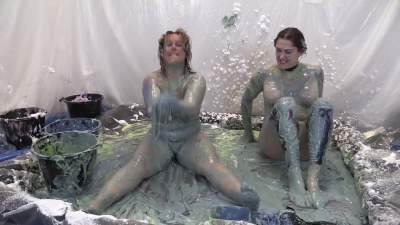 Starring these models:
"A naughty Batgirl vs a Naughty Harley Quinn"
| | |
| --- | --- |
| File count: | 1 |
| Total size: | 394.17 MB |
| Runtime: | 17 mins, 25 secs |
| Released: | 1/12/18 |
| Produced: | 2017 |
| Views: | 1651 |
| Scene ID: | 26479 |

$8.00
In this download we see who is better Batgirl or Harley Quinn.

Behind the scenes it was being discussed whould win Harley queen or Batgirl. Tallulah declared that Harley Quinn would win and Ashley styated she thought that Batgirl would win.

well theres only one way TO find out--gunk fight

so we find Tallulah dressed as Harley Quinn and Ashley as Batgirl and battle commence's from the outset with Batgirl getting the upper hand and drenching Harley in some thick green gunge this is where we find we have a naughty Harley Quinn, she has no knickers on. Harley then fights back and starts to get revenge on Batgirl by pouring thick blue gunge over Batgirl and then down the clevage. Batgirl even helps by sitting back and pouring the stuff over herself.

Next after her outfit is full Bargirl decides she needs to distract harley so strips off and bares her naked body to the camera, but Harley decides it's time for her to also take off her outfit as well. Next it turns into a naked free for all with both girls covering and rubbing mess all over their naked bodies and carassing each other. Boob jiggling, laughter and fun all had and not one piece of flesh is left uncovered by either as each takes the upper hand. Towards the end both girls enjoy and wallow in the mess and even start gunking and rubbing gunk into each other.

Who wins I'll let you decide!

Report