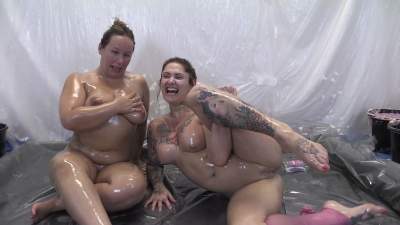 Starring these models:
"Sexual Oil Play with Ashley and Tallulah"
Ashley Ryder and Tallulah Tease are here to torment, tease, titivate and torment each other in oil. The rules are simple there are no rules no holds barred. Ashley and Tallulah are armed each with bottles of baby oil and both set about sexually covering each other. Both provide a nice massage for each other along with a bit of sexy play as they go.
Then it's out with the double ended dildo where both pleasure and get off with each other.
This is one hot slippy sexy scene
| | |
| --- | --- |
| File count: | 1 |
| Total size: | 588.56 MB |
| Total runtime: | 11 mins, 30 secs |
| Date added: | 10/10/17 |
| Year produced: | 2017 |
| Views: | 1433 |
| Scene ID: | 24815 |

$6.00
Includes this file:
mvi-0146-6-ashley-and-tallulah-baby-oil-1.mp4

1920x1080

7,152 Kbps

588.56 MB

11.5 minutes MessySupplies.com