Tits, Clay and Dunk Tanks with Sophia
From: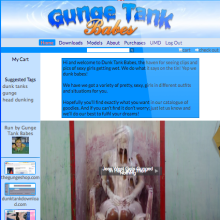 Gunge Tank Babes
Starring:
Here's the full scene:
15 min
"Dunked in a denim mini skirt but soon gets it off."
Preview trailer:
Join Sophia as she plays Are you being Served on the Dunk Tank. Sophia has to guess the cocktails and as she gets them wrong she is dunked in clay. Sophia is wearing her denim mini skirt with braces an a white Gucci T-shirt. As Sophia climbs up onto the hot seat she flashes her knickers for everyone to see. Sophia soon gets dunked into the clay and enjoys wallowing around in it. Sophia soon ends up losing her skirt and top and ends up being dunked in just those panties. If you love mud and big tits you will love this film.

Flag it
* For
VIP
users only. The "no trailers" option means you won't see any videos that correspond to for-pay downloads. No guarantees that you won't still see other types of promos.