From: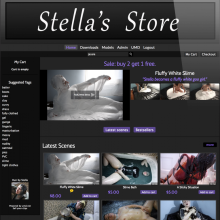 Stella's Store
Starring:
Here's the full scene:
Preview trailer:
There I was, my hands and feet bound together, while I was blinded by tinted goggles. The anxiety in me grew as I heard someone getting the buckets of slime.Then the first one hit me. The freezing cold slime crashed over my head and cascaded over my body. It send a shiver threw me for more than one reason. I tried to use it, or at least warm my sensitive areas with my hands, no use. Then came the second bucket. Hot this time, causing my skin to tingle and it slid over me, sticking together making it difficult to breath through. I fiddled with the knots behind me. The sticky yuck coating the rope made it difficult to get a hold on. Eventually I free my hands and begin scooping the goo onto myself. I undo my feet and begin rolling in the slime in ecstasy. I remove my blindfold to see that there's another toy in there with me. Something I can use rather than just my own fingers this time. Between rolling in the goo, sliding across it, gathering it all into a ball and letting it slowly come down over me in stringy goodness, and playing with myself with something to satisfy how horny slime makes me this has been one of my favorite messes yet.
* For
VIP
users only. The "no trailers" option means you won't see any videos that correspond to for-pay downloads. No guarantees that you won't still see other types of promos.