Sara Liz $150 Condiment Game
From: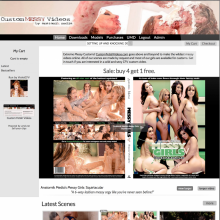 Custom Fetish Videos
Starring:
Here's the full scene:
17 min
"Blue Cheese Dressing, Ranch Dressing, Mustard, Bbq, Thousand Island,"
Preview trailer:
Wet and messy time with Sara Liz! She takes condiments like a champ in this extremely gooey episode of $150 worth of condiments. Ketchup, tartar sauce, sour cream, bbq sauce, mayo, thousand island, blue cheese dressing, ranch dressing, mustard, etc.
* For
VIP
users only. The "no trailers" option means you won't see any videos that correspond to for-pay downloads. No guarantees that you won't still see other types of promos.