From: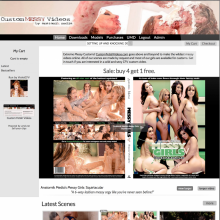 Custom Fetish Videos
Starring:
Here's the full scene:
79 min
3 files
"Sasha Heart, Charlotte Cross, Gabriella Paltrova--Messy Gone Wild!"
Preview trailer:
Messy Girls 4 is a huge wet and messy adventure! Sasha Heart, Gabriella Paltrova and Charlotte Cross star in an epic story of girl meets girl….meets girl with eggs and a whole bunch of other stuff--pudding, applesauce, jelly, cucumbers, corn, tomatoes, speculums, whipped cream and more! Weird experiments are performed, sex is had, messes are made. 79 min
* For
VIP
users only. The "no trailers" option means you won't see any videos that correspond to for-pay downloads. No guarantees that you won't still see other types of promos.