Maria Noel's House Party Gunge Vote Gunging
From: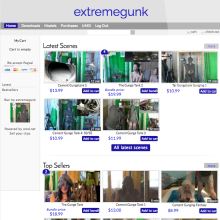 extremegunk
Starring:
Here's the full scene:
16 min
"Maria goes head to head in version of viewer Noel's House Gunge Vote"
Preview trailer:
Maria (A London Bus driver), goes head to head against Bad Noel Edmonds Impersonator in version of old Noel's House Party gunge vote phone in. Despite the odds and Bad Noel Edmonds impersonator's terrible reasons why he should avoid the gungetank, he wins by a large majority and escapes the gunge again. Maria then goes into the gungetank and get's glorious Blue gunging, my first experiment with Natrasol Gunge. (This should have been between Donald Trump and Hillary Clinton?). It is filmed from 4 cameras all in high definition.
* For
VIP
users only. The "no trailers" option means you won't see any videos that correspond to for-pay downloads. No guarantees that you won't still see other types of promos.