Little Mina Messy in Mpvbleck
From: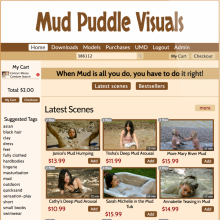 Mud Puddle Visuals
Starring:
The full scene:
21 min
2 files
"Completely coated with bleck, Little Mina gets even sexier!"
Preview trailer:
Little Mina continues our 'messy trials' in Mpvbleck in a very sexy and alluring way, as she slowly gets covered head to toes in the sticky and yet runny goo! Mina has a delicious Asian form that just gets more and more desirable as it shines with the gooey bleck. It's not hard to imagine getting stuck to her, as a good time would be sure to follow. The sexiness increases as the scene progresses, culminating in bog blobs of Mpvbleck melting over her head and running down her compact body. Delicious! This purchase includes the feature video, plus a complete hi-res photo set. A great value!

Flag it
User comments
From dlodoski

12/27/16

Also, I just realized that the free video was rendered with a mish-mash of footage. This has been corrected. The correct edit may not appear in the on-site player for a while, but downloading yields the corrected version.
From dlodoski

12/23/16

Thanks. Glad you like what you see. The substance is MPVBleck. It's a proprietary version of the traditional oobleck mixture. You can't buy it anywhere but you can make your own with some experimenting and a lot of work.
From Messymud

12/23/16

What kind of substance is this and where can i buy it? Btw love this video