From: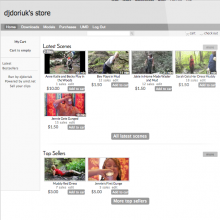 Wellies Women & Mess
Starring:
Here's the full scene:
18 min
2 files
Preview trailer:
Jess decided to have a party to celebrate, of cause she had to dress up in her red dress, and as it was the launch of wellies women mess new website she put on her wellies, her silver hunters. but before any guest arrive she has sat on a chocolate cake. Well what should she do but get messy with all the other cakes and cheese cakes that are there. she covers herself in a number of cakes, cheese cakes, angel delight, cream and marshmallow fluff.
* For
VIP
users only. The "no trailers" option means you won't see any videos that correspond to for-pay downloads. No guarantees that you won't still see other types of promos.