From: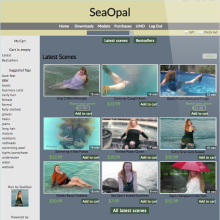 SeaOpal
Starring:
Here's the full scene:
14 min
"Going for a swim in my shorts and cowgirl boots"
Preview trailer:
Cute corduroy short-shorts and a sexy lacy bustier (that goes completely sheer) make an enticing outfit to get wet in but the piece de resistance in this clip are my adorable cowgirl ankle boots. Watch the suede turn color as I teasingly dip them in the pool, and giggle along with me as I go squelching around in the sodden footwear afterward. Then be thoroughly entranced by the underwater view as I swim around with, then without my shorts--but leaving my boots on the whole time! ;D
* For
VIP
users only. The "no trailers" option means you won't see any videos that correspond to for-pay downloads. No guarantees that you won't still see other types of promos.