Breana Goes Bananas: Closeup
From: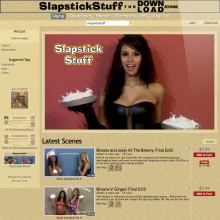 SlapstickStuff Download Store
Starring:
The full scene:
44 min
"The closeup angle from SS172 Scene 1."
Preview trailer:
Breana learns a tough lesson about dropping banana peels as she falls into Three different cakes, eventually losing her skirt and getting caked and choc slimed on the floor! Our best pratfall scene to date! Closeup angle only.

Flag it
User comments