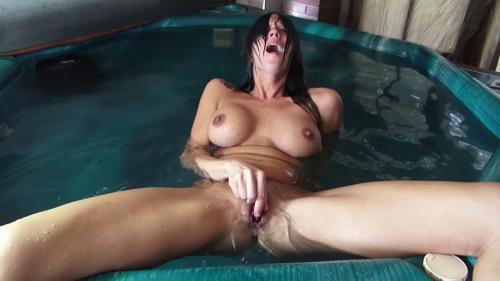 Starring the following model:
"Hot tub in Yoga clothes wet to nude with vibrator and orgasms!"
| | |
| --- | --- |
| File count: | 1 |
| Total size: | 703.06 MB |
| Total runtime: | 23 mins, 1 sec |
| Date added: | 9/26/16 |
| Year produced: | 2012 |
| Views: | 4979 |
| Scene ID: | 17847 |

$9.99



Me in the hot tub in yoga clothes, I strip down nude and use the vibrator to cum over and over again while head dunking backwards! This scene was really fun bc it was me and you there, together. i was manning the camera, myself and talking to just you...making sure you see everything. I have my victorias secret yoga clothes on with no bra or panties underneath. Just my super tight black pants and grey top. they are amazing bc the pants become so shiny and the top changed colors brilliantly and clung to my huge boobs so awesome! Before i strip down I do Tons of head dunks after showing off my wet clothes, then proceed to show off my wet clinging clothes even more...they looked so pretty i could not stop looking at myself! It gets me horny enough i grab my vibrator and straddle the side of the hot tub (right where you are ;) and i use the vibrator on the outside of my wet, shiny pants and get a nice orgasm from that. i decide its time to get nude after head dunking some more after that. I strip down for you, get fully nude, head dunk over and over and lose my breath! i straddle the side of the hot tub again, letting you have a full view of my wet, naked body and pussy and get my vibrator again and proceed to have numerous orgasms, dunking my head backwards in the water when i do...it was exhilirating to say the least! I keep going until i can hardly take any more cumming and then i get back into the water. Fully submerging myself, popping up, head dunking and then deciding to use my hands and get myself off while i am in the warm water and head dunking for you. its a longer running video than usual for a wetlook video but i talk to you during the video and at the end i take selfies for you and then talk to you about how much i loved it and what things i loved about doing it the most

i hope you all love it! xoxoxox it was pretty hot...and not just because of the water. oh no no...it was intense!

Report

Phased Out Again