Trinity Audra and Daizy Pie to the Face Gameshow
Produced by MessyHot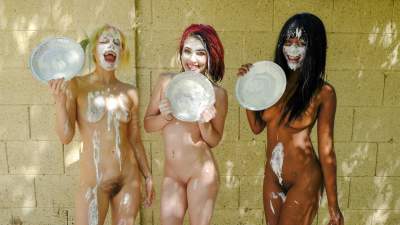 Starring these models:
Fans requested a more game themed shoot featuring a couple of MessyHot veterans Trinity May and Audra, and as it happened Daizy Cooper was in town with Audra so we got all three of them to shoot together. We start with a game of group paper rock scissor where the loser gets a pie from the winner and then has to take off an article of clothing. It took a little bit of figuring to work out who won when, and there was a lot of giggling to go along with it. It seemed like Audra had a supernatural ability to predict who would do what as she was the clear leader all of the way through. Trinity took the most pies through the scene. Audra had a surprise for them however! The winner of the least pies to the face was actually the loser and had to get slimed. The ladies mixed up two buckets of kinda watery green slime, concocted with oatmeal, water, condensed milk etc. They poured it over Audra who let out quite the shriek and was giddy with the coverage she was getting. To pay the ladies back for the sliming they gave her, Audra decided to give them a messy shampooing and shampooed both of their hair with frosting, Trinity May getting the pink and Daizy getting the blue.
The ladies all had a great time and Daizy told me she couldn't wait to come back and do some more mess making.
| | |
| --- | --- |
| File count: | 2 |
| Total size: | 659.01 MB |
| Total runtime: | 19 mins, 14 secs |
| Date added: | 11/14/17 |
| Year produced: | 2017 |
| Views: | 3471 |
| Scene ID: | 24874 |

$14.69



Includes these files:
trinity_audra_daizy_game.zip

1920x1280

Zip file of 17 photos

19.52 MB

sizes may vary
trinity_audra_daizy_gameshow_720.mp4

1280x720

4,645 Kbps

639.49 MB

19.2 minutes

Report MessySupplies.com