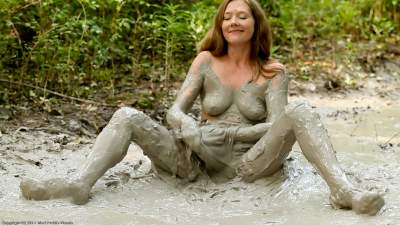 Starring the following model:
"I think we need to try a mud negligee next!"
Inspired by Kymberly Jane's mud dress outing, we decided to see what Star could do with the idea. Good plan! Because Star always has a way of latching onto the sexual concepts we give her--but with an approachable result that excites the watcher. She gets her dress saturated with slippery clay, and then used it to stimulate herself. Completely satisfied, she then passes out in the mud.
This purchase includes the feature video, plus a complete hi-def video frame capture set. A great value!
| | |
| --- | --- |
| File count: | 2 |
| Total size: | 914.74 MB |
| Total runtime: | 13 mins, 11 secs |
| Date added: | 10/16/16 |
| Year produced: | 2013 |
| Product ID: | MPVSMD |
| Views: | 3466 |
| Scene ID: | 19797 |

$15.99
Includes these files:
mpvstarmuddresscaps.zip

1920x1080

Zip file of 294 photos

148.06 MB

sizes may vary
mpvstarmuddresshd.mp4

1920x1080

8,129 Kbps

766.69 MB

13.2 minutes MessySupplies.com