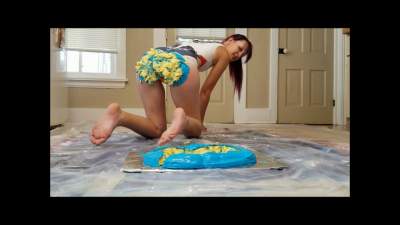 Starring the following model:
"Lost another bet, time to get messy"
Miss Marie has lost another bet (not very good at winning bets) so what lies in her future is another cake sit followed with a face plant into said cake dressed in a mercy one piece swimsuit, but why stop there? she then gets pied multiple times with some very messy banana cream pies and has green slime dumped over her. She then gets an amazing moon pie causing cream to splatter everywhere. She sits up to have thick creamy chocolate slime poured over her face, loving how that feels she pours some chocolate syrup over herself. She plays with the mess spreading it across her chest and into her lap. laying into the mess she makes herself a messy angel, Marie then pulls back her swimsuit to show her pussy which is promptly splattered with a pie ending the scene.
| | |
| --- | --- |
| File count: | 1 |
| Total size: | 374.92 MB |
| Total runtime: | 12 mins, 10 secs |
| Date added: | 8/11/17 |
| Views: | 2542 |
| Scene ID: | 24022 |

$6.00 MessySupplies.com