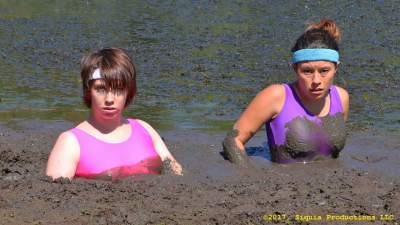 Starring these models:
"In a quicksand farce, Nikko and Nixi sink into a rather viscous swamp."
Nikko and Nixi, in 80s-style headbands, shiny leotards and leggings, are on their way to a costume party. At Nixi's advice and Nikko's regret, they take a shortcut through a swamp. The inevitable happens--they get stuck! They get out, but then get stuck again. Then they sink all the way up to their armpits before someone comes along with a rope. During their rescue, they make all sorts of incredible promises: their rescuer decides to get Nixi out first and takes her up on their offer, living Nikko behind to sink further! Nikko's curves create a bit of a problem for her eventual rescue. After, they go to a river and wash up in a great wetlook scenario--eventually stripping off all of their clothes and washing each other off!
| | |
| --- | --- |
| File count: | 1 |
| Total size: | 1.07 GB |
| Total runtime: | 20 mins |
| Date added: | 7/07/17 |
| Views: | 3759 |
| Scene ID: | 22859 |

$23.99