| | |
| --- | --- |
| File count: | 1 |
| Total size: | 490.82 MB |
| Runtime: | 8 mins, 21 secs |
| Released: | 9/07/17 |
| Produced: | 2017 |
| Views: | 2015 |
| Scene ID: | 24315 |



We both love a challenge, especially physical. that's why we love running, ocr mud runs, the gym and messy stuff. Mud Wrestling in deep mud sucks the energy out of you, and is not only fun but is very physically demanding.

The Location

We searched places that was suitable, a location needed to be close to the car, yet somewhere which was in the middle off nowhere, so we didn't get to many people walking past and interrupting the shots. The location also has to have no rock, stones or anything sharp. Needed to be tidal too as salty tidal water keeps most diseases away unlike stagnant inland sites. It also needed the right mud. Sticky, deep enough but not dangerous, and clay based. The banks needed to be suitable to easily get in and out and to mount a tripod and camera.

For us, we found a lovely stop along the river Deben, at Bawdsey, Suffolk. A little way from the river is a creek which provides perfect conditions!

The Fight

There are parts of the video that looks rather brutal, But don't worry, we may have got a little carried away, but nobody was hurt in this mud fight. The mud became churned up quickly and soon became knee deep in places, sucking the energy out of your legs and making it hard to get up once you fall down. Its surprisingly hard to mud wrestle in these conditions.

The Cleanup

We could have washed of in the option, but in our experience of mud runs, the mud quickly drys and its much harder to get off when wet. You can't completely get it off, until a home shower or bath, so its best to let dry a bit, change your clothes into a second old set, dump the first lot in a bin bag, and walk back to the car. We use car valeting covers which are really cheap and keep your seats clean, and worry about the rest when we get home! Once the clay becomes hard, you can easily pick it out of your ears!

Report
Visit the site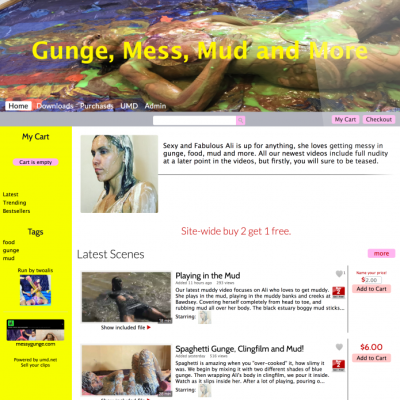 Visit the owner