"Another classic CC mud session with the naughty Mrs. CC!"
| | |
| --- | --- |
| File count: | 2 |
| Total size: | 465.12 MB |
| Runtime: | 24 mins, 14 secs |
| Released: | 1/26/16 |
| Produced: | 2012 |
| Views: | 9205 |
| Scene ID: | 16947 |

$8.60
So far Mrs. Custard Couple (CC) has completed 6 sets in the Mud Slut series.

Another classic CC mud session with the naughty Mrs. Cc!

her car has broken down. She starts to walk home and ventures into a very unkempt field.

Mrs. CC is dressed in a white sleeveless dress, white jacket, white camisole, black bra and knickers, black suspenders, tan stockings plus white heels.

Custard Couple are an amateur couple who hugely enjoy WAM and luckily for us, they permit us to observe as voyeurs, their wet and messy games.

This is fabulous entertainment as Mrs. CC chats continually to us, telling us how she feels.

Inevitably, Mrs. CC contrives to stumble and fall into a muddy puddle.

She is soon coating her stockings then her knickers with the muddy water.

Her dress and jacket get slowly muddied up.

Mrs. CC really enjoys playing in the mud!

Her jacket is far too clean so she removes it and tramples it into the mud puddle.

Then she has a 'Nice roll in the sexy mud'.

Next, her bum gets the mud treatment.

Then she lies on her back 'So good! So horny!'

She continues to daub herself and her clothes with the muddy water.

Then her hair is immersed in the mud puddle.

A very mud covered Mrs. CC continues her mud play before she says she is 'absolutely gunged up!'

She removes her dress followed by her cami.

Then her tits are out and get smothered with the muddy water – see Free video trailer.

This is very erotic content as Mrs. CC has further mud fun with clit stimulation with the muddy water!

After a final wallow in the mud pool she re-dresses again, including her very muddy jacket.

As we near the ending Mrs. CC tells us 'I didn't know mud could be quite so much fun!'

We all agree with that!

What did I like best?

Muddy long stockinged legs – muddy tits – muddy bum – muddy hair – white clothes--quiet field setting (as the birds sing their delight)!

Yep, definitely the best WAM couple in the world!

We show you a HD Clip of Mrs. CC's muddy fun.

Image set M198 of Mrs. CC as The Mud Slut part 2 has 148 images included as part of the package.

Muddy outdoor sets are always intriguing due to the sheer bravado and high risk of discovery.

Add in a complete storyline and it is good Muddy Fun!

So again, some stunning yet most enjoyable muddy clothed and strip play, from England's finest……Mrs. Cc.

not convinced?

Take a look at the 5 sample shots from image set M198 in the Free Picture Gallery.
Includes these files:
cc20_1.mp4

1280x714

2,382 Kbps

210.24 MB

12.3 minutes
cc20_2.mp4

1280x720

2,992 Kbps

254.88 MB

11.9 minutes
Free picture gallery:

Report
Visit the site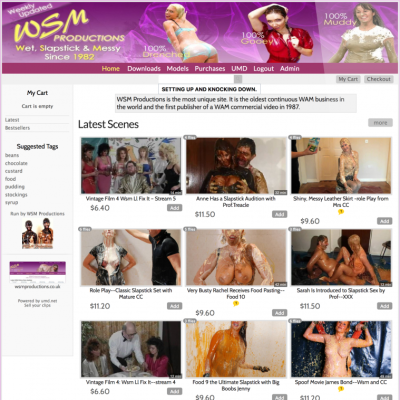 Visit the owner