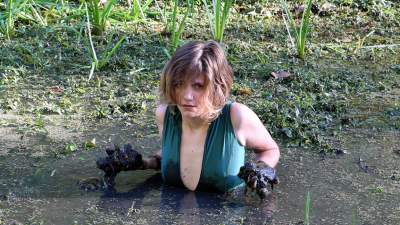 Starring the following model:
"Mercy West sinks into a swamp, struggling to get free"
Lithe, lean Mercy West ventures along into a new swamp at the end of her dance class, just to play in the mud. She is wearing her favorite, green tank leotard and a new pair of black, footed tights. She plunges about playfully in the slime before she realizes she is stuck. She sinks deeper, crying out and cursing at her predicament. Chest deep, she struggles to get free.
| | |
| --- | --- |
| File count: | 1 |
| Total size: | 613.79 MB |
| Total runtime: | 11 mins, 9 secs |
| Date added: | 5/19/17 |
| Views: | 3078 |

$10.99

Flag it
Free video trailer:
Free picture gallery:
User comments
From Jumpoff_Joe

8/24/17

I don't know. I'll ask Mercy West what she feels. I can't imagine it being much protection: the tights are pretty much ruined after a single shoot. Slave Maude's Punishment Pies