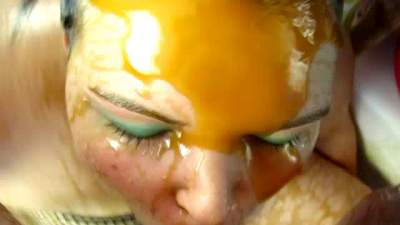 Starring the following model:
"Watch Layla and her date get sticky and kinky in POV!"
| | |
| --- | --- |
| File count: | 1 |
| Total size: | 171.05 MB |
| Runtime: | 20 mins, 3 secs |
| Released: | 7/10/14 |
| Produced: | 2014 |
| Views: | 3741 |
| Scene ID: | 10694 |

$10.00



Layla went over to her date's house not knowing what he had planned for the evening. Even in her wildest dreams she hadn't envisioned the 4 bottles of pancake syrup, big bottle of caramel sauce and giant bowl of pudding awaiting her! By the time he got her in the tub, she was in nothing but a slinky see-through fishnet tube dress. She smiled up at him as he started blasting her tits with thick, sticky syrup. He started to cover her beautiful, perfectly made up, heart shaped face in the thick syrup, then he moved down to her pussy, drenching her swollen, throbbing clit with the sticky liquid. She moaned and moaned in sticky, sugary ecstasy. Next he pulled out a bottle of caramel sauce and coated his cock in it, presenting it to her. Watch Layla suck his caramel covered cock with her pretty pink syrup covered lips. She was really getting into it, when suddenly he pulled out a big bowl of chocolate pudding! "Here, take a closer look at this for me," he said, putting it right beneath her face. Upon closer inspection, she grabbed a handful and lubed his rock hard cock up with it, then put her face right into the bowl! She sank her face into the bowl of gelatinous pudding one more time, still stroking his cock, when (to both of their surprise) the plastic bowl cracked down the center! Layla decided that she needed to do something with the rest of the pudding in the bowl, so she dumped it over her head! The thick milky pudding cascaded down her face to her breasts and covered her sexy BBW body. After that, she really started to go to town on his cock, deep throating it fast and hard. When he got close to cumming, she pulled his dick out of her mouth and jerked him off until he blew a load on her messy tits.

Report