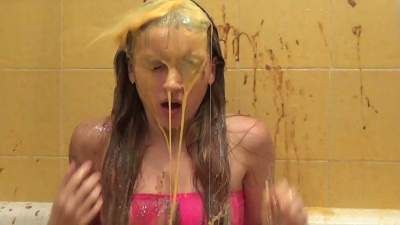 Starring the following model:
"Lauren Takes The Slop Full In The Face"
Lauren eventually agrees to do one of her first scenes where she doesn't get to clasp her hands over her face. The buckets of food / slop are poured and it is full facial coverage. Wearing a tiny pink top, she is slopped from above with chocolate pudding, eggs, nasty green pesto, loads and loads of oil, and some crazy-messy strawberry pudding. She removes her little pink tube top and goes topless. Once there she starts to rub and play with her boobs in the oil and slop.
| | |
| --- | --- |
| File count: | 2 |
| Total size: | 1.08 GB |
| Total runtime: | 27 mins, 20 secs |
| Date added: | 10/12/17 |
| Year produced: | 2017 |
| Product ID: | 0003 |
| Views: | 4353 |
| Scene ID: | 24825 |

$10.00
Includes these files:
mah00214.mp4

1280x720

3,043 Kbps

297.6 MB

13.7 minutes
lauren__full_facial_gunk.avi

1920x1080

8,237 Kbps

805.71 MB

13.7 minutes

Report

Phased Out Again