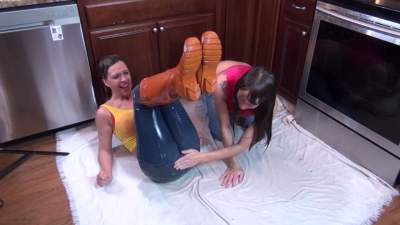 Starring these models:
"Jayce and Ariel Wet Their Asses In The Sink and Fill Boots w/ Water!"
Jayce and Ariel are feeling sexy and very frisky today and they're ready to play in their tight, light colored jeans, colorful Hunter wellies (rain boots) and brightly colored crop tops with bras under them. They're being chatty and silly today, showing off their dry bras and panties that will soon be wet! Their first mission is to sit in the kitchen sink while the other girl aims the faucet down the back of their jeans and turns it on....cold! They squeal when the water starts to flow down the backs of their jeans, wetting their whole ass and changing the denim to a darker color and they make sure they show off their wet asses! Next they move on to boot filling, each getting a boot filled completely full of water and they show it by sloshing around in them! Now they're ready to just get drenched! They take turns using the shower sprayer to playfully get each other soaking wet! Spraying inside and outside of the clothes, and Ariel has a big pitcher full of water that she uses to slowly pour over Jayce's head! Now they're sopping wet and they start showing off their wet bras and panties, rolling around on the floor on the sopping ground! They even pull off their boots to give you a peek at what kind of socks they're wearing!
| | |
| --- | --- |
| File count: | 1 |
| Total size: | 285.49 MB |
| Total runtime: | 19 mins, 12 secs |
| Date added: | 2/04/17 |
| Year produced: | 2017 |
| Views: | 3792 |
| Scene ID: | 21378 |

$6.99




Report MessySupplies.com