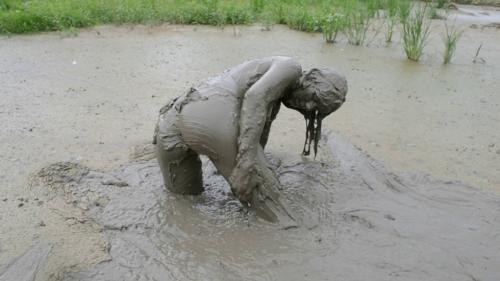 Starring the following model:
"Jayce gets super sexy and makes love to the mud!"
| | |
| --- | --- |
| File count: | 1 |
| Total size: | 316.34 MB |
| Total runtime: | 9 mins, 59 secs |
| Date added: | 10/19/16 |
| Reviews: | 3 |
| Views: | 21004 |

$7.00




Flag it
Jayce gets super sexy in this video in the Mud Lake! She strips down and gets in all kinds of positions ;) She rubs all over herself and makes love to the mud, bouncing up and down onto it, full submerging herself, head dunking while rubbing herself down ;) She starts off all in her cute little pink and black cheer uniform, matching jacket and matching Nikes! She is wearing a crisp white turtle neck underneath that snaps right at the crotch which she makes sure to take advantage of ;) Jayce jumps in and begins to trash her uniform. As it gets to the point of no return she starts to strip out of it. She takes off her nikes to reveal her hosiery and feet and shows them off for you before destroying them in the mud too

She strips down to her underwear and decides she is going to bend over completely in the thigh high mud and dunk her head with her ass facing You and rubs all over her ass and other naughty bits for you to see, all while her head is completely submerged. She plays around, showing off her long hair covered in the mud. She does a lot of submerging and emerging to show off her completely covered body. She lays back in the mud and spreads her legs at one point to where her legs are resting right by her ears! She then submerges her head while her legs are still spread wide open and plays with her naughty bits while feeling the awesome pleasure of being encased in the mud. Jayce continues to play, turning around and bouncing on top of the mud like she is bouncing on something else ;) haha! She gets really sexy in this one. She lifts her legs in the air, showing off her naughty parts and dunks her head backwards while rubbing on her pussy and her face totally covered. If you like erotic mud scenes that seem to be a show just for you, you will love this set! enjoy!