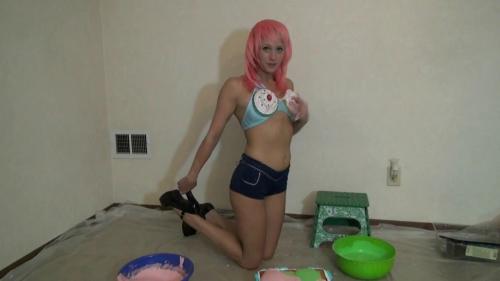 Starring the following model:
"Jayce dresses up in the famous cupcake costume and gets dirty in cake/slime"
| | |
| --- | --- |
| File count: | 1 |
| Total size: | 289 MB |
| Total runtime: | 9 mins, 7 secs |
| Date added: | 12/13/16 |
| Views: | 5874 |
| Scene ID: | 8222 |

$5.00



Jayce is Katy Perry in this one! Sporting Katy Perrys famous cupcake bra and bootie shorts costume with wig and big hot heels! She of course decides (as she plays Katy Perry) she is gonna try all the things with cake that she has been hearing about. She covers her body in two huge icing cakes topped with thick slimy goop and lets her hands sink into them...grabbing huge handfulls and licking them and then putting them all over her body. She then grabs her bowl of super thicky, sticky green slime and pours it over her face. It is so thick and gooey it takes forever to pour out and the anticipation is killing her to feel the thick, sticky substance. It hits her face adn she loves IT. She plays in it and rubs it down her body and shows off its stickiness. She then grabs her pink slime, which is just as sticky and thick...she awaits it to hit her face and falls in love again...she watches the colors swirl all over her and she makes sure to rub them in good. She grabs big handfuls of cake and decides to put them in her hot pants-she wants to feel what everyone has been talking about! She loves it! She then gets on all fours and decides to lay in the mess and play with the cake in her hot pants. She plays around and moans with pleasure until she finally says goodbye! And there it is, Katy Perry does like to get messy!

Report
.