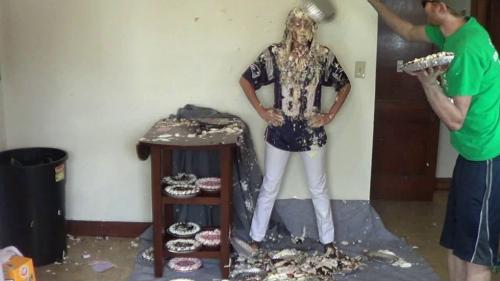 Starring the following model:
"Jayce pisses off the bartender with her jersey and gets the treatment!"
Jayce comes into a bar in Indiana wearing a Patriots jersey. This really pisses off the bartender as it is a "colts" bar. The bartender decides he is going to pie her relentlessly. Jayce is mad at first but says that she is a Patriots fan and can take it. These are huge bakery pies thrown right at her face from a distance, pie sandwiches, pie after pie not even letting her have a breath! The bartender even throws the pies so hard he messes up a lot of his bar! Jayce is furious but continues because she thinks she is tough! She is ruining her white pants/jeans, jersey and you cant even see her face! Once he is done, the bar is trashed, so is Jayce. So, Jayce decides to climb on top of the bar to give him a show

I think this made the bartender change his mind about being so mad

| | |
| --- | --- |
| File count: | 1 |
| Total size: | 304.5 MB |
| Total runtime: | 15 mins, 15 secs |
| Date added: | 12/17/16 |
| Views: | 5080 |

$5.00




Flag it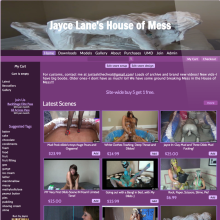 More scenes
Tell others about this scene:
* Promo refers only to
Jayce Lane's House of Mess
's download scenes. The lowest-priced item(s) in your cart from this producer will be made free once you have the required number of items in your cart.