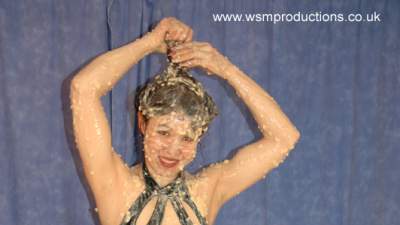 Starring the following model:
"Using just one foodstuff--rice pudding."
| | |
| --- | --- |
| File count: | 5 |
| Total size: | 307.08 MB |
| Runtime: | 44 mins, 16 secs |
| Released: | 3/11/18 |
| Product ID: | WSM051 |
| Views: | 1629 |
| Scene ID: | 27532 |

$8.50
There are many different ways of getting mess with Slapstick play.

But it always works well with a simple approach.

This messy movie wsm051 plus image set S193 feature Chinese lady jade.

how does she get Messy?

Using just one foodstuff--rice pudding.

so what could be more simple than a rice pudding set?

Now team this up with a very clinging club outfit and the action is steamy!

Jade is dressed in her sexiest 'club outfit' in black wetlook.

A tight fitting top with even clingier trousers plus black ankle boots. And the rice pudding is daubed until Jade is fully coated!

Although Jade ends nude and raunchy, the emphasis is on the clothes and the gradual rice pudding sploshing.

There are 195 image shots in set S193 and this is great messy material.

Movie wsm051 runs 44 minutes just featuring Jade's rice pudding play.

This is an older set shot in June 2007 but the picture quality is surprisingly good.

Do not just pass this by, this is a personal experience as Jade speaks directly to you.

Stream 1 commences with a bucket of rice pudding as Jade teases us by eating it.

Then she spreads it on her arms.

She commences on the front of the outfit, then does her bum and back.

Jade enjoys her rice pudding play.

But Jade is one of the most talkative models I have worked with! She never shuts up!

In Stream 2 Jade rubs the rice on her trouser knees, over her front and inside her top onto her tits.

She covers her shoes and legs and enjoys the slurpy sound effects.

The Stream finishes as she inserts rice pudding into the front of her trousers (she wears no knickers!)

Stream 3 sees her continue to put the rice pud down the front, then the back, of her trousers.

Her hair gets the rice pudding treatment and she tastes her rice covered hair.

Then she puts her head in the bucket of rice pudding, before massaging her hair with it!

Then her face is daubed as Jade does not mind getting messy and calls it 'Messy! Sploshy!'

Jade pours the remnants of the bucket over her head, then rubs it in her hair and face.

'This is a lovely experience ' she says.

She rolls around in the paddling pool getting as messy as possible--see free trailer In the final Stream 4, she removes her top, then ankle boots.

Her trousers are removed to leave her naked.

Her body gets nicely daubed and she squirms in the mess.

We end with some revealing shots as the rice pudding is caressed around.

This is a terrific movie.

If you like a girl getting very messy, yet teasing you about it with her chat.then here it is!