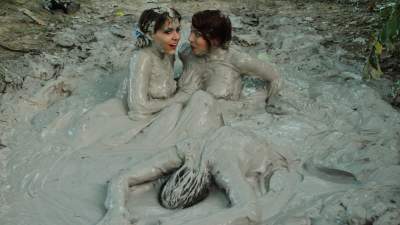 Starring these models:
"When a costume party ends up in mud!"
Sarah, Ludella and Annabelle are taking a shortcut through the woods on their way to a Halloween party when Sarah spots a clay pit and gets excited. We find out that there's some history when Ludella says "We don't have time for your shit!." Well they end up making time because Sarah has them fully engaged in clay in a very short time. We also find out that it wasn't boys that they were going to check out at the party. Turns out, they can pretty much take of themselves. The action in this scene is really just kissing and some wandering hands, but it is pleasing all the same. This is a long scene that features some nice face dunking action near the end. It's been a while since Mpv has done traditional WAM, but this was worth the time and effort. The ladies made it so!
This purchase includes the feature video, plus a complete hi-res photo set. A great value!
| | |
| --- | --- |
| File count: | 2 |
| Total size: | 980.72 MB |
| Total runtime: | 24 mins, 43 secs |
| Date added: | 10/24/16 |
| Year produced: | 2014 |
| Product ID: | MPVHGM |
| Views: | 4923 |
| Scene ID: | 19988 |

$16.99
Includes these files:
mpvhalloweengirlsinmud.zip

1920x1278

Zip file of 182 photos

74.09 MB

sizes may vary
mpvhalloweengirlsinmud4umd.mp4

1280x720

5,128 Kbps

906.63 MB

24.7 minutes MessySupplies.com