"Gunge tank, shaving foam pies, and trivia--lots of fun"
delete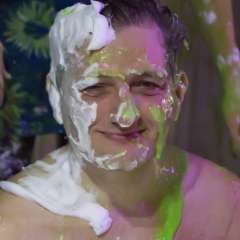 I always like to see shaving foam pies, although sadly they're quite rare in Moomin videos, so this makes a nice change. Although they're all aimed at the face, some of the foam does drop off onto the rest of the body.

The rules sound a bit complicated in the video description, but it's actually easy to follow when you watch it. It's all based around trivia questions, which means that you can play along at home. Mind you, with the multiple choice questions, I don't think Charlotte really needed to read out the letters ("a... b... c..."), particularly when the question involved letters on a computer keyboard.

Both models said how much they enjoyed it, and I believe them--I think they genuinely had fun playing the game, which makes it more fun for me to watch. I'm glad that they both stayed messy for each subsequent round, although maybe it would have been worth wiping their face clean after getting gunged; the foam pies didn't seem to stick too well to gunge.

MostWam normally does fully-clothed stuff. In this case, stripping down to underwear felt like more of a practical choice, similar to wearing a bikini for swimming. At least one of the models said that it felt nice to have the gunge on her bare skin, and it was easier to wipe off afterwards.

You definitely get value for money with this video: 43 mins for $10.

Report