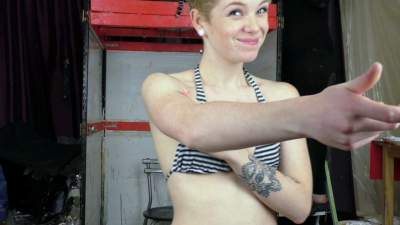 Starring the following model:
"Tylah stands in for Annabelle"
Well we'd all like to see the lovely Annabelle pied, will today be the day? We were hopeful and even had the Phantom flan flinger himself lined up to deliver them. Sadly however Annabelle did not show up, instead she sent Tylah to stand in for her. In what now seems to be becoming a regular occurrence Bob is delivered a note with a rather hard to believe excuse. At least however Tylah had been properly briefed about what was to happen to her although she was a pie virgin. She gamely removed her bikini and sat in the gunge tank to provide some target practice for the Phantoms pie throwing. She's soon a naked custardy, creamy and giggling mess. Afterwards however she makes some comments about Annabelle's professionalism. Unfortunately for Tylah, Annabelle is listening into the audio feed from the studio and Bob receives a rather irate phone call. This culminates in Annabelle using her remove control for the gunge tank and covering poor Tylah in cold green gunge. Tylah is very cute and plays the victim very well, she also has an adorable giggle. Have some vidcaps.
| | |
| --- | --- |
| File count: | 1 |
| Total size: | 484.76 MB |
| Total runtime: | 16 mins, 39 secs |
| Date added: | 7/08/18 |
| Views: | 984 |
| Scene ID: | 29256 |

$9.99

Report