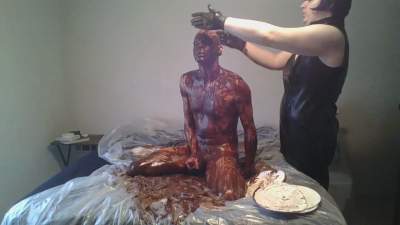 Starring these models:
"Madame Rayne visits D-Bolt to make him her messy slave!"
Madame Rayne don her latex dress to administer her messy arsenal all over D-Bolt's naked body. After she smears a few pies in his sexy face, she makes him lay down to receive a nice helping of chocolate syrup all over his chest and cock. She uses her latex gloved hand to smear the mess all over his crotch to make sure he gets fully hard. Than comes the surprise! In her messy repertoire is a chocolate filled fleshlight! D-Bolt trembles with pleasure while she uses the fleshlight on him and smears more mess all over his body and sexy bare feet. As more chocolate is applied in what seem to be a never ending supply. D-Bolt begins to finger his tight ass while jerking his massive cock. Madame Rayne has him flip over to show off his ass and messy bare soles to the camera. She smears mess all around to be sure every inch of D-Bolt's sexy body is covered in sweet sticky mess. As he gets close, D-Bolt sits back up to face the camera so we all can enjoy the explosive end to the epic messy adventure!
| | |
| --- | --- |
| File count: | 2 |
| Total size: | 1.63 GB |
| Total runtime: | 44 mins, 54 secs |
| Date added: | 4/19/17 |
| Year produced: | 2017 |
| Views: | 1963 |
| Scene ID: | 22265 |

$10.00

Report
Includes these files:
dbolt-gunge-part1.mp4

1280x720

5,181 Kbps

787 MB

21.2 minutes
dboltgunge2.mp4

1280x720

5,201 Kbps

880.51 MB

23.7 minutes
.