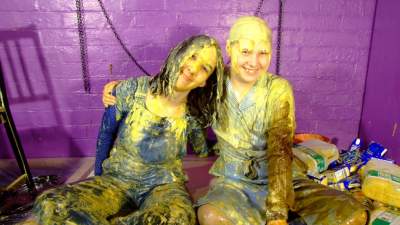 Starring these models:
"Lady Rose and Wendy Household fill each others' clothes with goo!"
| | |
| --- | --- |
| File count: | 2 |
| Total size: | 1.58 GB |
| Total runtime: | 47 mins, 9 secs |
| Date added: | 3/30/12 |
| Year produced: | 2009 |
| Product ID: | gm-2f46 |
| Views: | 9060 |
| Scene ID: | 3581 |

$12.00
Rose and Wendy fill each other's outfits!

Lady Rose wears: Blue denim dungarees, blue striped long-sleeved top, black plimsoles.

Wendy Household wears: Pale blue shop-worker's dress, dark blue wellies.

Set Features: Dungarees filled with custard, syrup and treacle, dress filling, gunge soaking through from inside clothes, tit for tat gunging, willing victims allowing themselves to be completely messed up, pocket filling, full buckets of gunge poured over the ladies, gunge shampoo, milk poured on and into clothes.

Lady Rose, in dungarees and striped top, and Wendy Household, in a shop worker's uniform dress, start by playing scissors, paper, stone, with the winner of each game pouring gunge into the loser's clothes. As both girls get steadily messier, the quantities increase, till they are pouring full buckets of gunge over each other! Both girls have their clothes well filled, and we get to see the mess seeping through Rose's dungarees from the inside as they are filled with more and more gunge. Wendy has her shop uniform coat-dress filled too, some of the mess leaking back out onto her lap. They both receive very thorough messy shampoos at each other's hands, and pour milk over each other's clothes too.

Over a thousand photos, plus over forty five minutes of silent video, shows the girls messy fun in lavish detail. The video is a mx of hand-held but steady close-up shots, plus tripod-shot work.

Report MessySupplies.com