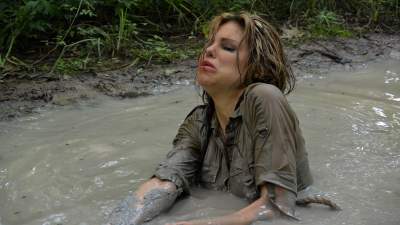 Starring the following model:
"Candle = Sexy Damsel in Mud!"
Well, there's nothing like a flood to get the attention of the fans of submerged quicksand. Whether it be a couple feet, or two inches, underwater quicksand has it's place--and so does Candle apparently. She's on the run in a jungle swamp, and having all sort of trouble staying clean and dry. First, she stumbles into a deep hole with grabby muck at the bottom. After barely escaping that, she flounders some more and finally encounters quickclay, disguised under several inches of water. Will she escape? It's an almighty struggle either way!
This purchase includes the feature video, plus a complete hi-res photo set. A great value!
| | |
| --- | --- |
| File count: | 2 |
| Total size: | 673.73 MB |
| Total runtime: | 10 mins, 52 secs |
| Date added: | 10/27/16 |
| Year produced: | 2014 |
| Product ID: | QSVCST |
| Views: | 3325 |
| Scene ID: | 19991 |

$9.99
Includes these files:
mpvcandleswampterror.zip

1920x1280

Zip file of 84 photos

41.62 MB

sizes may vary
mpvcandleswampterrorhd.mp4

1920x1080

8,132 Kbps

632.11 MB

10.9 minutes