Ode to the Target
By dreamygie
There was a thread recently asking if people liked getting messy. I wanted to expound on the subject but like I said earlier, if I post on a thread it will die immediately. It's a gift.

I don't like getting messy. I didn't actually know that at first. Growing up I watched people get messy on television without actually experiencing it myself. Wait that's not true. I did have a gunge buddy in high school but that's another story. It started mutual but I did eventually steer it so that it was only getting him messy. I can be very persuasive. Another gift.

Now when it comes to WAM, I'm the one dishing it out. But in my non-WAM sexual life, I tend to be much more versatile. I did get messy at first, several times in fact. But each time the only thing I enjoyed about it was the submission aspect. I hated getting the substances in my eyes, my ears, my nose, but especially the mouth. Not sure why haven't really explored that one too deeply. But yeah I wasn't good at it at all. Eventually I just stopped getting messy and I was much happier that way. Maybe someday I'll take a pie again, but I highly doubt it. There are so many other things I'd rather do first.

Therefore I am so grateful that there are men who enjoy being pied as much as I enjoy delivering them. I am always impressed by the endurance and stamina of the guys I pie. I know that I couldn't endure what they do. I wonder if I had learned to swim as a child if I'd be able to take pies better. The breathing needed in pieing is kind of similar. I shudder to think of what childhood activity prepares one for getting hit in the face with flying objects from a distance.

I love that there are guys who will sit there and let me toss pies at them, shove cakes in their face, smear graham cracker crumbs in their hair and more. I need them. Without them I'm aiming my pies at the wall. And that would be a waste of processed food products.
Written
1/3/17
. 369 views.
Comments: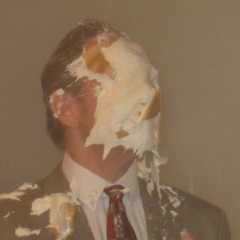 Custom Fetish Videos