Tom and Emily's First Mud Bath
From: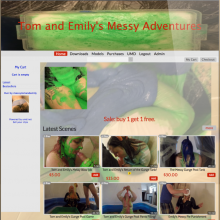 Tom and Emily's Messy Adventures
Starring:
The full scene:
20 min
4 files
Preview trailer:
Tom and Emily have a moment alone and decide that they want to get messy! They fill a bath full of warm thick mud so they can enjoy some sloppy time together! Emily steps in slowly, feeling the thickness of the mud between her toes. She then slowly sits down into it feeling the lovely smooth mud against her skin. Emily, under toms command, submerges herself under the mud several times covering her entire face and body! Tom eagerly awaits joining her and can't resist so he dives in to join her! Tom enjoys Emily coving him in mud whilst playing with his rock hard dick! Tom also submerges himself and gets covered head to toe in the gorgeous mud too! When they're both covered Emily plays with Toms dick whilst covering him in the mud, Tom enjoys this so much he shoots his thick warm cum everywhere as he moans with enjoyment.

Report