Sportswear in Yellow Gunge Bath
From: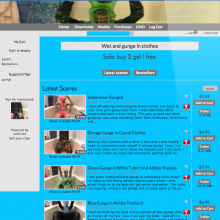 MessyMark's Store
Starring:
Here's the full scene:
16 min
Preview trailer:
I fill a bath with 100 litres of new ms-gunge from messysupplies.net. I'm wearing an Adidas cap, t-shirt and shorts and new Nike tracksuit bottoms. You can see me pouring the gunge all over my body, completely submersing myself in it, and getting naked!
User comments
* For
VIP
users only. The "no trailers" option means you won't see any videos that correspond to for-pay downloads. No guarantees that you won't still see other types of promos.