Satin Evening Dress Gets Gunged
From: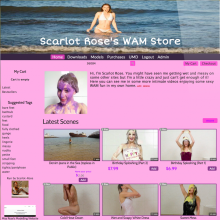 Scarlot Rose's WAM Store
Starring:
Here's the full scene:
13 min
6 files
"Scarlot has fun covering herself in a mixture of pretty coloured gunge."
Preview trailer:
Scarlot tries something a little different to her previous self-sploshing experiments in this video entirely based around gunge! She wears a long, satin evening dress, pantyhose, thong and heels for this sensual self-gunge video.

Watch as Scarlot covers herself in a mixture of pink, purple and blue gunge in the bathtub. She enjoys filling her tights and slowly stripping off until she is wriggling around completely nude!

This video comes as a set and includes a few additional short clips including two shoe-filling videos and some behind the scenes style timelapse videos!
* For
VIP
users only. The "no trailers" option means you won't see any videos that correspond to for-pay downloads. No guarantees that you won't still see other types of promos.