Rian in Shower with Blue Jeans
From: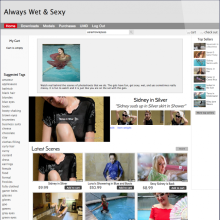 Loves Getting Wet
Here's the full scene:
"Rian is back and wanting to shower in a hot shower and tub"
Preview trailer:
Rian is a hot redhead. When she get wet... she gets hotter. As the water starts in the tub, she begins "tweaking" her pink tits. She loves to pull on her nipples and rub herself while wearing her blue jeans and sheer top. She wears spiky sandals, takes them off briefly while she removes her jeans to show off her pink pussy with growing clit as she has gets aroused. This one is hot hot hot!
User comments
From lofw

3/27/17

Also a nice clip, but I would have preferred her playing with her cunt inside her wet jeans!
* For
VIP
users only. The "no trailers" option means you won't see any videos that correspond to for-pay downloads. No guarantees that you won't still see other types of promos.