Messy Girls 3: Pie Whores
From: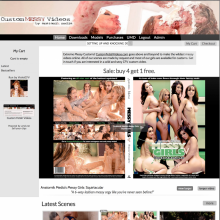 Custom Fetish Videos
Starring:
Here's the full scene:
57 min
2 files
"A pie eating contest runs amok between 3 beautiful friends!"
Preview trailer:
Messy Girls 3: Pie Whores stars Veronica Vain, Sasha Heart and Katy Kiss in a pie eating contest that turns into a messy free for all good time! The three girls go at it with 20 pies, grape jelly, chocolate sauce and whipped cream, cucumbers and more!
* For
VIP
users only. The "no trailers" option means you won't see any videos that correspond to for-pay downloads. No guarantees that you won't still see other types of promos.