From: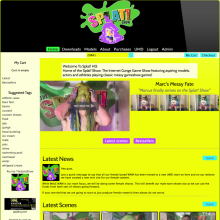 Splat! HQ
Here's the full scene:
15 min
4 files
"Jon stars in his last ever normal splat show"
Preview trailer:
Actual Running Time: 57 Mins 16 Secs

Jon has been a big part of season 14. Jon is big hit with you guys and we want to take this moment to thank him for agreeing to take part in all of the shows and features he has been a part of this season. Jon will have a reduced role in season 15 but he will be back for some special shows we have planned.

This show will be Jon's last normal solo Splat! Show. Normal as in a the standard Splat! Show format release. With that in mind we want to send him out on a high with a show we hope you all love his Big one show

Jon's Big one feature show includes:

•Gunge Tank Interview: We catch up with Jon just after he successfully completed the Gunge Tank Escape game after avoided getting voted into the Gunge Tank in the public vote. We talk to him about what he has been up to and his reflections about the shoots he has taken part in. We then unleash the Gunge Tank for the first time! •Splat! The Model: Jon is a dam good model and as well as getting gunged for you guys he also does various other modeling work. So we took his "normal" modeling work and gave it a Splat! twist. We dressed Jon in some posing speedos and asked him to stage some common male modeling poses. We then fired high pressurized gunge at him after each pose. After a few famous poses we cut to the Gunge Tank Cam (included in both downloads) for the second Gunging of the show, and it's a gunging that will make you say Wow! Note: This game features the Tank Cam shot used for the Gunging and is featured in both downloads of the show.

•Feet Torture: In this game Jon has to endure a relentless tickle torture on his feet. Jon is very ticklish and hates having his feet tickled. How long can he endure the torture? He has one chance to make it end, but when he does it means a trip the Gunge Tank for the third gunging of the show!

•Splat! Quiz: His Choice. As this is Jon's last ever solo "normal" Splat! Show, we were kind enough to allow him to choose the subject for the quiz. Do you think giving Jon a bit of control enabled him to escape the Gunge? •finale Pow! Gunging: The end of Jon's final season 14 solo show. We dressed him in the N2N Pow super hero Lycra singlet, because he is our superhero. Cue the Gunge Tank, gunge throws and more. A
* For
VIP
users only. The "no trailers" option means you won't see any videos that correspond to for-pay downloads. No guarantees that you won't still see other types of promos.