Eastern Promises of Messy Massages!
can download file
"You'll definitely want to become a client of this Allwam massage studio!"
These two lovely ladies have heard about a radical new massage therapist in town, a hottie babe who spent some time studying in China and now lives the part and promises the best massage you've ever had...with a very messy twist! Amazingly, her cute as hell client looks super similar to the massage therapist, but that's another story and this chick is looking to get all the kinks worked out, and this China-dressed masseuse is here to solve all problems, first starting out with the standard stretching moves, only to then bust out all of her messy products that end up all over her own China dress and her clients sexy black outfit! In no time faces and dresses are creamed up with all kinds of different lotions and other nasty substances, and it turns on the client's friend so much that she has to jump into the mix, turning this into an ultra sexy threesome of messy massage magic!
From: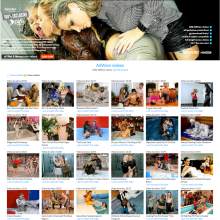 Report