From: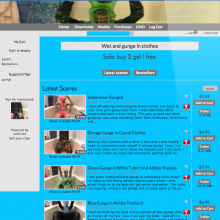 MessyMark's Store
Starring:
Here's the full scene:
19 min
Preview trailer:
New adidas gear getting covered in gooey clear slime and foam. Includes adidas trackies, t-shirt, hoodie and snapback. I start off covering myself with spray foam, then a bucket of clear gunge and then finish off with a bubble bath!
* For
VIP
users only. The "no trailers" option means you won't see any videos that correspond to for-pay downloads. No guarantees that you won't still see other types of promos.