Zeta Vs. The Red Light
Produced by CaseWam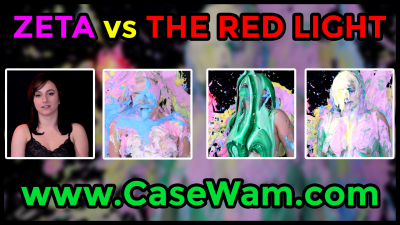 Starring the following model:
"Zeta carelessly activates a Red Light that get her pummeled by pies!"
Zeta is up to her old tricks of doing exactly what she's told not to do. This time she in her sexy slip pushing buttons she shouldn't be. She somehow gets a red light to turn on and starts getting slammed by huge pastel colored pies right in the face over and over again. She even gets a couple straight into mouth! After getting her slip ruined with pies she hops into the shower and yelps while she gets hit by ice cold water, she evenetally gets the shower working right and washes off topless ;)
After Zeta finally gets cleaned up she shows off her wet slip, and before she knows it she's getting hit by pies again the quickly ruin it! She ends up topless again just to be smiled by a sticky green slime, and hit with another round of gooey colorful pies in the face, tits and ass. Zeta just can't catch a break can she!
(This was a custom scene commissioned by a client)
| | |
| --- | --- |
| File count: | 1 |
| Total size: | 626.08 MB |
| Total runtime: | 7 mins, 50 secs |
| Date added: | 1/18/18 |
| Views: | 3179 |
| Scene ID: | 26496 |

$14.99

Report
.