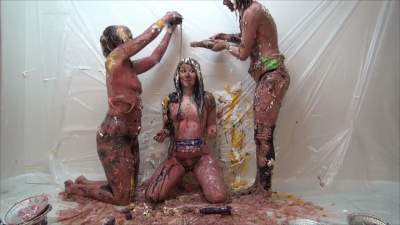 Starring these models:
"20 sloppy pies and 10 bottles of syrups for Alli's 1st time!"
Ariel and Jayce have a new friend--meet 21 year old Alli! This is her first time ever doing anything like making internet fetish videos and her first time getting messy also! Ariel made 20 sloppy pies to show Alli a proper messy fun time! First, Ariel and Jayce team up on Alli--giving her a pie sandwich to break her in! After that she gets more pies to the face, boobs and ass. Then Ariel gets in the middle for her turn to get pied and covered and syrup. After that, it's Jayce's turn to get messed up by the other two! When they're all completely messy from head to toe and topless, Alli gets back in the middle so Ariel and Jayce can pour even more mess on her!
| | |
| --- | --- |
| File count: | 1 |
| Total size: | 203.64 MB |
| Total runtime: | 12 mins, 59 secs |
| Date added: | 11/01/16 |
| Year produced: | 2014 |
| Views: | 2709 |
| Scene ID: | 20122 |

$6.99




Report