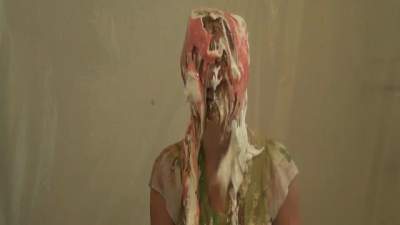 Starring these models:
| | |
| --- | --- |
| File count: | 1 |
| Total size: | 62.97 MB |
| Total runtime: | 7 mins, 2 secs |
| Date added: | 12/05/17 |
| Views: | 403 |
| Scene ID: | 25918 |

$19.99 55% off!

$9.00




Report
We return to WAM News, this time with myself and the lovely Annabelle!

I start the report wearing a nice scarlet coloured sleeveless blouse. I give a round up of my messy week, starting with my seafood challenge where I got messy with an array of different fishy things including seafood sauce, which I get a nice helping of over my head whilst I read the news! The seafood challenge was particularly disgusting and I even say that it was a trifle unnecessary, at which point, I get a trifle on my head. The cream sticks to my hair, but the jam slips of and bounces off my chest!

I go on to talk about being pied by Sarah Jane and on cue, I get a chocolate pie n top of my head followed by a strawberry pie to the face!

Next I talk about my gungings and get a bowl of thick green goo poured over my head. I also mention my guess the mess challenge where I was doing fabulously well until one substance had me stumped, it turned out to be cranberry sauce! It is the Christmas season after all! So, I get a load of cranberry sauce over my head followed by a favourite from last Christmas, brandy sauce! I also get a large helping of gravy, a must have for any Christmas dinner!

I mention the cold weather and how colds are prevalent this time of year and that chicken soup is the perfect thing to help combat them. I get a big bowl of chicken soup poured over my head followed by the essential winter warmer, porridge! I am now covered in all the mess, so it's time for Annabelle to give the forecast!

Annabelle is wearing a pretty white top and starts off with a warning of wet weather, a bowl of water is poured over Annabelle's head followed by a bowl of green gunge as there will be plenty of slimings in the coming week!

Annabelle goes on to predict lashings of custard, baked beans and porridge! All of this is poured over her head, ruining her white top and hair!

Annabelle also predicts plenty of pies! She gets a lovely chocolate pie to the face followed by a barrage of various pies to her face and head! She concludes by once again mentioning the slime as she gets a big helping of white slime all over her head!