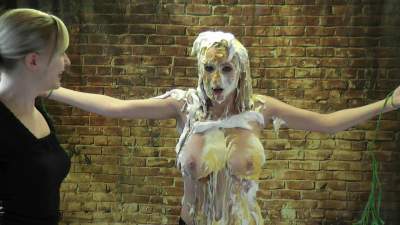 Starring these models:
| | |
| --- | --- |
| File count: | 1 |
| Total size: | 122.53 MB |
| Total runtime: | 4 mins, 6 secs |
| Date added: | 10/05/17 |
| Views: | 1504 |
| Scene ID: | 24744 |

$19.99 61% off!

$7.80




Report
The scene starts with Cherry tying me up in the dungeon against my will. Not only has she stripped me and now tying me up, she is calling it 'her' dungeon! We all know that it's my dungeon and I am the Mistress! However, Cherry shows no mercy as I stand there in just my black panties, unable to escape. She is quick to get a foam pie and push it into my face then smear it on my head. Cherry continues to be mean and picks up to pies to pie my bare breasts. I ask to be untied, but Cherry is cruel and out for revenge. She grabs a big chocolate pie and pies me in the face with followed by another big pie which she throws but this one barely hits my torso! She never did have a very good aim.

I am really not happy about this situation but Cherry hasn't finished yet and she puts a custard pie on top of my head. Then she throws another chocolate pie in my face, but more torture is to come!

Cherry grabs my hair and pulls my head back roughly before pieing me in the face with a big custard pie. She then pies my breasts and puts another pie on top of my head.

I am covered and really unhappy. I just want to be untied! But Cherry just pies me in the face again with a custard pie then smears another pie across my breasts.

I have been tortured and humiliated and pied beyond recognition but Cherry has no regret and just walks off leaving me tied and pied.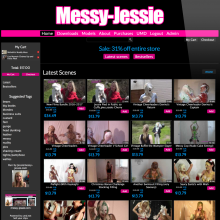 More scenes
17 min

19 min

18 min

9 min

22 min

14 min

24 min

2 files

5 min

8 min
Tell others about this scene:
* Promo refers only to
1 and Only Messy Jessie UMD Store
's download scenes. The lowest-priced item(s) in your cart from this producer will be made free once you have the required number of items in your cart.