 Starring these models:
| | |
| --- | --- |
| File count: | 1 |
| Total size: | 224.65 MB |
| Total runtime: | 13 mins, 9 secs |
| Date added: | 1/12/18 |
| Views: | 455 |
| Scene ID: | 26502 |

$19.99 61% off!

$7.80




Report
In this scene, I have a quiz for Cassandra. The subject is TV and film. For every incorrect answer Cassandra will get pied or gunged!

Cassandra is dressed in black jeans and a black top. I am in black jeans and a floral top.

Cassandra answers the first and second question with ease. However, she seems to struggle with the third question so I prepare myself with a pie! Cassandra can't answer the question and so I pie her in the face with a foam pie!

After vowing to not get any more questions wrong, Cassandra answers the fourth question incorrectly so I pour red gunge all over her head! Before I even ask the next question, I pick up a pie. I think Cassandra has already given up as she gives me a ridiculous answer to the fifth question. I happily pie her in the face again!

Cassandra fails to answer the next question correctly, naming Christian Slater as the actor who plays Zack Dingle in Emmerdale! So I pour a load of custard over her head!

With the next question, Cassandra actually attempts a proper answer but gets it wrong anyway! I pie her in the face once again!

Cassandra finally gets two answers right but gets stuck question number 9 so I get to cover her in green slime!

There should only be 10 questions, but Cassandra answers it correctly and I am desperate to pie her again. So I ask another question which she also gets right!

In a bid to pie her one last time I ask her a question I know she won't know and finally get to pie her!

It's now my turn in the hot seat and Cassandra is eager to get cracking! My subject is music of the 1980's.

I answer the first question with ease and feel confident that I might stay relatively clean. However, the second question has me stumped! I have no idea at all what the answer is and Cassandra relishes in covering me with custard!

I answer the third question correctly but somehow manage to get the fourth (very easy) question wrong! I get gunged with green slime and know I deserved it!

The fifth question is about the film Labyrinth which I love so I am sure I'll get t right. I think I have it right but I miss a line in the song and Cassandra tips a tub of gunge over my head!

I struggle with the next question, even though I get it half right Cassandra still pours custard all over me and pies me in the face!

The seventh question is too tricky for me so I get pie to the chest. The last question comes in 2 parts. I get the first part right but can't answer the second part so Cassandra gives me a pie in the face.

As a bonus treat for Cassandra, I tell her to sit down and pour a bowl of chocolate over her head! I take my top off and Cassandra picks up a pie, but before she can pie me, I push it into her face while it's still in her hands! So I hand her a tub of gunge to pour over me as a peace offering!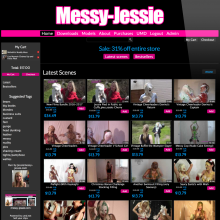 More scenes
11 min

13 min

6 min

5 min

7 min

9 min

10 min

17 min

2 files
Tell others about this scene:
* Promo refers only to
1 and Only Messy Jessie UMD Store
's download scenes. The lowest-priced item(s) in your cart from this producer will be made free once you have the required number of items in your cart.